Doom 3: Resurrection of Evil
Title:
Doom 3: Resurrection of Evil
Genre:
Survival horror, Action
Developer:
id Software
Publisher:
id Software
Release Date:
April 3, 2005
---
DESCRIPTION
The gripping expansion pack for DOOM 3 takes your even further into the the DOOM universe. Two years following the unexplained disaster on Mars, the UAC returns to the abandoned facility to investigate a mysterious beacon buried deep in the ruins of the ancient civilization.
Battle six new demons including the hunters

Fight in all new 8-player capture the flag arenas

Wield new weapons including the double barreled shotgun

Possess demonic powers to use against the enemy

Control time to defeat the enemy and evade deadly traps

Harness the force of gravity to control your environment

Battle through the ancient ruins and into the horrifying depths of hell
---
Screenshot & Gameplay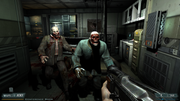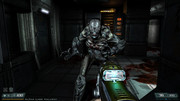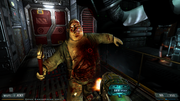 ---
SYSTEM REQUIREMENTS
OS:
Windows® 2000/XP only
Processor:
1 GHz processor minimum, (2 GHz recommended)
Memory:
256MB RAM minimum, (512MB recommended)
Graphics:
DirectX® 9 compliant 64MB (128MB recommended). see supported list*
DirectX Version:
DirectX 9.0
Sound:
Direct X 9.0 compliant
Hard Drive:
2.2 GB
Input Devices:
Mouse, keyboard, Windows compliant game pad.
*Supported Video Cards at Time of Release: Nvidia® GeForce™ 3/4/FX/6 series (GeForce 4 MX not supported) ATI® Radeon® 8500/9000/X series
---
Link
---